Basset Hound Blog

4/29/17
Our hearts are heavy yet again, as we announce Fred's passing.  Our senior mascot, Fred lived to be 13 years old and we were lucky enough to have him in our work and home family for 11 of those 13 years.
Fred was diagnosed with COPD in December, and even with the best veterinary care and litany of meds, was beginning to suffer in April. We loved him enough to help him end his life with peace, belly rubs and an entire cheeseburger for his final meal!  His vet even came out to the car – as riding in the car was one of Fred's very favorite things, next to treats – to help him pass peacefully.
Enjoy these pictures of Fred. And to our vendors, customers and Basset fans, we say THANK YOU for loving Fred along with us!
(Move your mouse to the right on the bar underneath the photos to view all the pictures).
Amy & Mike Hazlett
---
8/21/15
Blog from the (new) office of: WOODY!
I have another exciting introduction today! We now have THREE official ARP Mascots.  Woody is a Bassadore and he joins our family now. He is half Basset and half Lab and we just love him, even though he's a lot bigger than us.
Here's some pictures of my new buddy. He loves car rides, getting petted and treats!
(Move your mouse to the right on the bar underneath the photos to view all the pictures).
---
9/25/11
Blog from the office of:  FRED!
As ARP's official Mascot, I am very pleased to announce my new buddy Misty!  Misty was a rescue like I was, and she's so glad to join our family!  She's a lot like me, but as a girl she has a little girlie whimper, but surprisingly her ears and her man-sized paws are even bigger than mine! And THAT's saying something!
Enjoy our pictures at work, home, and most importantly, resting….Now if  you'll excuse me, I smell something yummy in the kitchen and, being a Basset Hound, feel it's my duty to investigate, beg & devour!
Love, Fred
---

5/15/08
FRED'S BLOG
Hello to all my fans out there!
Allow me to introduce myself — I am Freddie, also known as Fabulous Fred, Fast Fred, and previously Fat Fred! I am a 47 lb Basset Hound and I am American Recycled Plastic's new official mascot!
I say new because I'm replacing my best friend, Gino.  Gino went to Rainbow Bridge last fall, and we were all very sad.   But I cherish my memories of my time with Gino, and I'm glad he doesn't  hurt anymore!
If you're wondering how I came to be an ARP  Mascot, here's my story —
In October of 2006 a bad thing happened to me and my sister Ethel.  We were abandoned in an empty house and  were found by a Realtor, who brought us to the Brevard County South Animal  Shelter.  A reporter from the newspaper came to take our picture.  Ethel was adopted that day and I spend the night at the Shelter.        When the shelter opened in the morning, SIX people were waiting to adopt me!  Only one of them, though, knew how the Shelter worked — and that was Mike Hazlett…..he went to get me right away, and then he took me up to the front counter to fill out the paperwork!  He saw my picture in the paper and decided to get me as a surprise gift for Amy, my new mom!
Boy was she surprised!  I nearly knocked her over I was so excited and happy!  The rest is history…I  am now an official Hazlett family member and I am so loved by both my home and work families!  At home I get to play with Mike, Amy, Mikey, Marshall and Mandy (and I like to chase our cats Cashew, Cassie and Chloe!), and at work I love to visit each one of my work family!  I  like to sit on the office chairs while people work inside (Marilyn's chair is my favorite!) and I also like to visit Kevin in the warehouse and run around the yard!
Here's some pictures of me.  I'm sure you'll see why I'm such a Star — I'm a very handsome dog, I must say!  If you are in the area, please stop in and say HI to me, I am very friendly and I love visitors!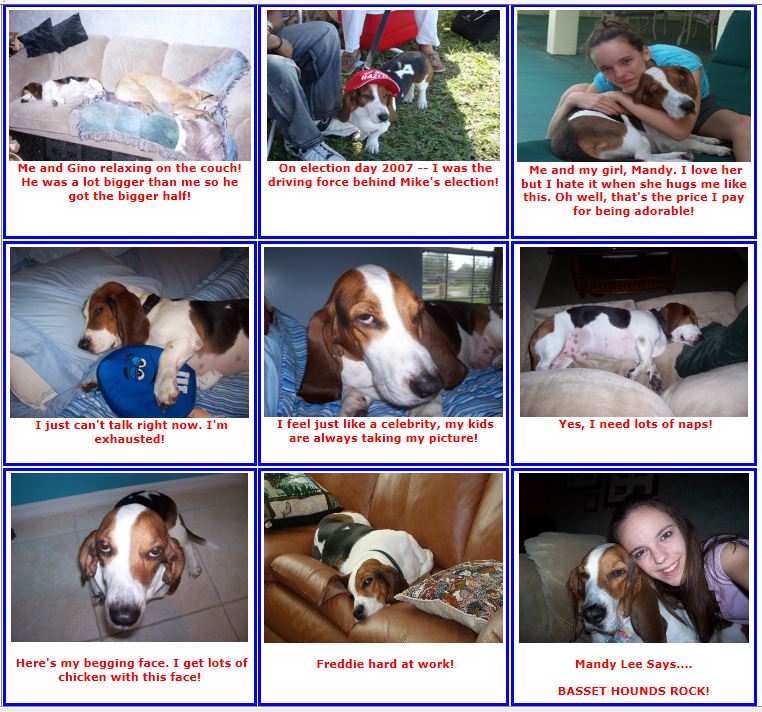 ---