Basset Hound Blog

March 2023
From the office of: RUBY & ROXY 
How time flies! It's been 2 1/2 years since we joined the Hazlett family and became official ARP Mascots. We love our jobs! Every day we go to work at the office. Our favorite jobs are: harassing the UPS guy, barking frantically every time Amy picks up the phone and of course, our #1 favorite thing: lunch break!
Here's some of our recent antics. Hope you enjoy them!
Love, Ruby 'n Roxy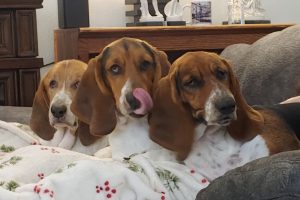 PS: Woody says hi. He's sleeping right now. He's an old man at 13, so he does that a lot. We love him even if he is snarky with us from time to time…..
September 2020
From the office of: WOODY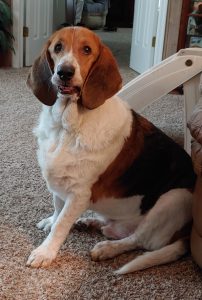 Our senior Bassador Woody is thrilled (OK, not so thrilled…) to announce the arrival of ARP's two new puppy-mascots!  Ruby and Roxy are 5 month old bundles of mischief, energy and love! Enjoy these photos of their antics, and follow us on Facebook for Mascot Mondays where we share all the latest news from Woody, Ruby and Roxy!