Recycled plastic is available in sheeting as well as dimensional lumber! We offer 3 types of sheeting: Standard grade agricultural sheeting, all-purpose sheeting and deluxe sheeting in 10 vibrant colors. We offer 1/16″ up to 1″ thick. Click here for more information.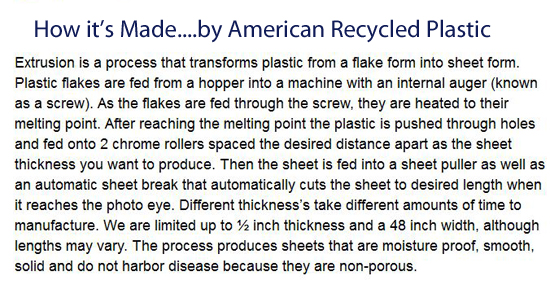 Standard Sheeting(1/16″ to 1/2″)
All-Purpose Sheeting (1/16″ to 1″)
Deluxe Sheeting
(1/2″ to 1″)
Recycled plastic sheeting is a high density polyethylene product used for farm or commercial construction.  Recycled plastic sheeting outlasts most conventional construction materials; compare this product to conventional building materials which require maintenance to prevent yellowing, splintering, rotting, delamination or rusting.